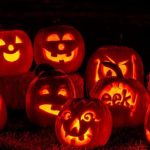 Scarecrows in the Garden brings to the Botanical Gardens dozens of creations by local artists, crafters, youth groups and more.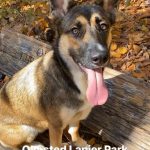 Woodland Spirits features a variety of ghostly figures imagined by Fernbank and transformed by Laura Lewis, an Atlanta artist who specializes in sculpture, painting and outdoor installations. While the museum is a great attraction, my dog, Coco and I love to walk around the various Olmsted-Lanier trails around. Check it out when you're over there, and see her modeling on a bench below.
Behind Oakland's Bell Tower building from 10 a.m. to 4 p.m. on October 3 and 4 is the first-ever Pumpkin Patch! This family-friendly, low-contact sale will feature a variety of pumpkins perfect for your fall and Halloween decor.