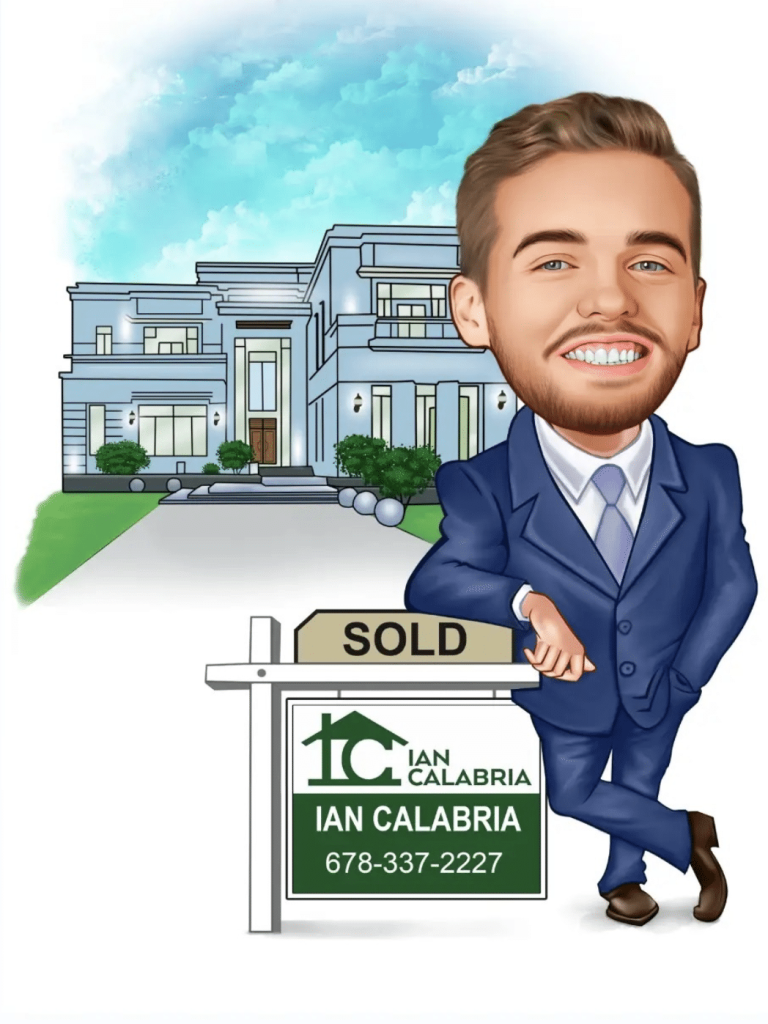 Hire someone you can trust
Selling Your Home with Atlanta Realtor, Ian Calabria
Selling a home is a thrilling and life-changing experience. However, from knowing your property's true worth to identifying qualified prospective buyers, complying with real estate regulations, and other nitty-gritty, the many crucial details involved in home selling can quickly become overwhelming.
That's why you need a trusted advisor to guide you through the whole process. Lucky for you, I know a guy!
Ian has successfully helped many clients sell their homes and help them get their homes ready for the market. Ian is a Top Producing Realtor and his clients on average sell 24% higher than neighboring homes and go under contract in less than a week due to Ian's top of the line marketing. Read more below of what makes me different.
Benefits of Selling with Ian Calabria - Your Trusted Atlanta Realtor
Selling your home can be an exciting yet daunting endeavor. Whether you're relocating, downsizing, or simply seeking a change, having the right guidance through the process is crucial. In this comprehensive guide, we will provide you with expectations and key insights into selling your Atlanta home with the help of an experienced real estate agent, particularly one who specializes in intown home sales like myself, Ian Calabria.
Benefits of Selling with Ian Calabria
Selling a home is a complex transaction that involves various legal, financial, logistical, and even emotional aspects. As your trusted Atlanta Realtor, here are a few ways I can assist you:
Expertise in the Atlanta Market
As an experienced agent in Atlanta with an incredible network, I have an in-depth understanding of the local real estate market. This knowledge is invaluable when it comes to pricing your home competitively, identifying target buyers, and navigating market trends. Specializing in intown residential home sales, I'm well-versed in the ever-evolving dynamics of Atlanta's neighborhoods, giving me a unique advantage in providing tailored guidance for all situations.
Maximized Profit and Efficiency
With my network and expertise, my goal is to help you achieve the best possible sale for your home, not only netting you the highest price but guiding you through a seamless and enjoyable transaction. I excel in highlighting your property's strengths and addressing potential weaknesses, ensuring your home is market-ready. Effective negotiation is crucial to secure favorable terms on your behalf. My goal is to create win-win deals, and I'm not afraid to go to great lengths for my clients. In my experience, effective negotiation can lead to higher offers and more lucrative deals.
Reduced Stress and Complexity
Selling a home involves an ever-changing multitude of tasks, from marketing and showing the property to handling paperwork and coordinating inspections. I have worked with numerous clients who have found relief in knowing that I'm managing the intricate details of their sale, allowing them to focus on other aspects of their move.
Choosing the Right Atlanta Real Estate Agent
Selecting the right agent is a critical step in ensuring a successful home sale. It's important to find an agent with whom you can work well together. If you're considering multiple agents, here are some tips for making an informed choice:
Research and Interviews
Research local agents who specialize in home sales in your area or neighborhood. Reach out to your top candidates and schedule interviews to discuss their approach, experience, and marketing strategies for your home. Personal connections and referrals can also lead you to a trusted agent.
Experience Matters
When choosing an agent, prioritize experience and passion. An agent who has worked extensively in the Atlanta real estate market, especially in intown neighborhoods like Midtown, Virginia-Highland, or Morningside, will have a deeper understanding of local nuances. While I may not be the most experienced agent, I have a network of top experts in the area who give me a competitive edge.
Compatibility and Communication
Ensure that your agent understands your goals and preferences. Effective communication is key throughout the selling process. I make it a point to actively listen to my clients, tailoring my approach to their unique needs. This open and collaborative communication style is essential in achieving a successful sale.
Home Preparation
Before listing your home, it's crucial to ensure it's in the best possible condition to attract potential buyers. Here are some key steps in the preparation process:
Staging and Presentation
Staging involves arranging and decorating your home to showcase its potential. It helps buyers visualize themselves living in the space. Professional staging can transform a property, leading to quicker sales and often higher offers. I have a network of stagers, each specializing in different styles of home staging to make sure I have the right fit for each unique home.
Declutter and Minor Repairs
Spend time decluttering your home, removing personal items, and creating a clean, welcoming environment. Address any minor repairs or maintenance issues that may deter potential buyers or come up during inspections. I can provide guidance on which repairs are essential and which can be skipped to save time and resources.
Agent's Expertise
Your chosen agent (hopefully me) will play a pivotal role in guiding you through the preparation phase. I've assisted countless clients in preparing their homes for sale, offering recommendations for improvements that yield the highest return on investment.
Setting the Right Price
One of the most critical aspects of selling your home is determining the right asking price. Here's how an experienced Atlanta real estate agent, like myself, can assist in this crucial step:
Market Analysis
I conduct an in-depth market analysis to evaluate your home's value in relation to similar properties in your area and the competition we may face. This comprehensive analysis considers factors such as size, location, recent sales data (including off-market properties), and hyperlocal market trends.
Pricing Strategies
Based on the values, we will work together to establish a competitive and realistic price for your home. Pricing strategies may vary depending on market conditions and your specific goals. Experienced agents, like myself, can recommend strategies that align with your objectives, whether it's maximizing profit or ensuring a quick sale.
Marketing Your Atlanta Home
Once your home is ready and priced correctly, it's time to market it effectively. An experienced agent should employ various strategies to attract potential buyers. Here are just a few things I do:
Professional Photography
High-quality photographs and drone shots are a must in today's digital age. I arrange for professional photographers to capture your home's best angles and features, as well as surrounding areas. These images will be used in online listings going to Zillow.com, Realtor.com, and all other sites, making a significant impact on the first impression your property makes and how many eyes it touches.
Online and Offline Marketing
I create a comprehensive marketing plan that includes online listings on multiple platforms, social media promotion, email blogs, online cookies ads, websites, and most importantly, exposure through the local real estate network. While online marketing is the future, I also subscribe to the old adage "if it ain't broke, don't fix it." A large portion of sales are from people staying in the neighborhood, or families moving in to be closer. Being a part of the local community is key to making sure all avenues are open for any prospective buyers of your home or property.
Targeting Intown Buyers
For intown Atlanta home sales, reaching the right audience is crucial to getting the right buyer. My local expertise and marketing strategies will target the highest number of potential buyers through filtering. As someone who specializes in intown residential properties, I have a deep understanding of the unique aspects that appeal to intown buyers and how to market to them. Atlanta has a ton of relocation opportunities, and it is my job to make sure we can appeal your property to the most qualified buyers, whether they are moving locally or out of state, in many cases, even from out of the country.
Showings and Open Houses
When potential buyers express interest in your property, I coordinate showings and open houses:
The Showing Process
As an experienced Realtor, I'm well-versed in showcasing the unique attributes of intown Atlanta properties, helping buyers envision their lives in these homes. Most home showings involve buyers present with just their buying agent throughout the home. I make sure to vet all agents and buyers who hope to see your home, and in some cases, I am present in showings as well to highlight special features.
Hosting Open Houses
Open houses provide an opportunity for multiple potential buyers to view your home in a single event. I will organize and market these events, ensuring that your property attracts a diverse range of visitors. Open houses are particularly effective for intown homes, as they allow potential buyers to experience the neighborhood's unique charm. I make a point to have these be as fun as possible and invite neighbors and friends out to highlight the property. Most of the time, they are more of a shindig than an open house; I have found this approach to help others enjoy and get a feel for the home than a traditional open house.
Negotiations and Offers
Receiving offers and negotiating terms are crucial steps in the home-selling process. Here's how I will guide you as an Atlanta Realtor through this phase:
Evaluating Offers
I present all offers received, helping you understand each one's terms and conditions and providing professional insights to help you evaluate offers based on price, contingencies, and closing timelines.
Effective Negotiation
Negotiating with buyers can be complex. Negotiation skills come into play as they work to secure the best possible deal for you. From counteroffers to navigating inspection requests, an experienced agent like myself ensures your interests are protected.
Closing the Sale
Once you've accepted an offer, the closing process begins, and the second part of the job starts, as I call "babysitting." I will assist you in navigating this final phase with:
The Closing Process
The closing process involves various legal and financial steps, including title searches, inspections, and the transfer of funds. I will collaborate with the buyer's agent, attorneys, lenders, and title companies to ensure a smooth and efficient closing, sometimes herding and hounding them as needed. I ensure negotiations are smooth throughout the process of inspection and financing periods, all the way through closing.
The Role of an Attorney
In Georgia, real estate transactions involve attorneys who specialize in real estate law. As an Atlanta Realtor, I recommend the top trusted attorneys who will review contracts, address legal concerns, and ensure that the transaction complies with all regulations. I have worked with several real estate attorneys in Atlanta and certainly have my favorites; I do not make any kickbacks or referrals off of anyone in my network; I make sure they do the best job at the best rates, and that is why I recommend them.
Post-Sale Services
After the sale is finalized, my support doesn't end. I will assist you with various post-sale tasks:
Moving Assistance
I recommend moving or relocation companies, assist in transferring utilities, and provide resources to streamline the moving process. I understand that moving can be stressful and frankly is crappy, and I'm here to make it as seamless as possible.
Ongoing Support
Even after you've settled into your new home, I remain available to address any questions or concerns. Whether you need recommendations for local services or information about your new community, I'm just a call away.
Selling your Atlanta home with the guidance of an experienced real estate agent, especially one who specializes in intown residential home sales, can make all the difference in achieving a successful and stress-free sale. By choosing the right agent, preparing your home thoughtfully, and following a strategic selling process, you'll be well on your way to a smooth transition.
If you're considering selling your Atlanta home or have any real estate-related questions, I invite you to reach out to me. As a dedicated Realtor with extensive experience in intown Atlanta, I'm here to provide personalized guidance and support throughout your home-selling journey.
For personalized assistance in selling your Atlanta home, contact me today at 678-337-2227 or email me at ian@iancalabria.com. I look forward to helping you achieve your real estate goals now or in the future!
I'm here to work relentlessly on your behalf to help achieve your real estate goals.
Looking to sell your home but curious about your home's true worth in today's constantly changing market? Please fill out the short form below to get an accurate estimate of your property's value. It's 100% FREE!